By now you have heard about the Coronavirus or COVID-19. There are many websites offering information and screening tools. Apple has a great website they developed alongside the CDC.
The sad truth is that it is spreading quickly and will only continue for a while. No one really knows how many people will be infected (or will pass away unfortunately), but it has caused the global stock markets to crash, which means as a business (or even a marketer), you will be affected. So what does this mean for us marketers?
Don't exploit the situation– What you should NOT do!
The first thing we are seeing is people trying to exploit fear.
Supplies are running low around the world. From masks and toilet paper to hand sanitizer and other basic necessities. For example, marketers are buying them and then reselling them on eBay or running ads and selling them for 10-50x the price!
This isn't entrepreneurship and this isn't marketing. It is extortion! So please, show some humanity and avoid exploiting the Coronavirus situation just to make a quick buck. Not only is it wrong but it is also very short-sighted. Sure you may be able to make a quick buck, but it won't last. You are better off spending your time on anything that is long term.
What does the Coronavirus mean for marketers?
Businesses are going to struggle for a while. Even if the virus slows down, businesses are going to struggle for well over a year because they will have to make up for their losses. In China the virus caused retail sales to drop by 20.5% and the unemployment rate jumped to 6.2 in February.
When companies like Apple shut down their stores to help reduce the spread, it means less income and less profit. They'll be able to pay their employees during their temporary shutdown, but not all companies have the capability or cash balance to do the same.
Just look at the travel industry. The virus is expected to lose them 820 billion dollars. Virgin Atlantic just asked their staff to take an 8-week unpaid leave!
The ports are also empty and the first rounds of layoffs have already started. It's estimated that in total COVID-19 will cost the global economy $2.7 trillion.
Organic traffic is down in most industries
Before we get to the raw data, note that the charts don't focus on any one single country. Instead, the charts display the traffic stats from a global perspective.
Note: Data from sites with less than 5000 visitors a month are not shown. They tend to differ from a percentage perspective even when there are no global issues or algorithm updates.
Now, from an SEO standpoint, last week saw a huge drop in organic traffic for most industries. Just look at the chart below (compares last week to the previous week).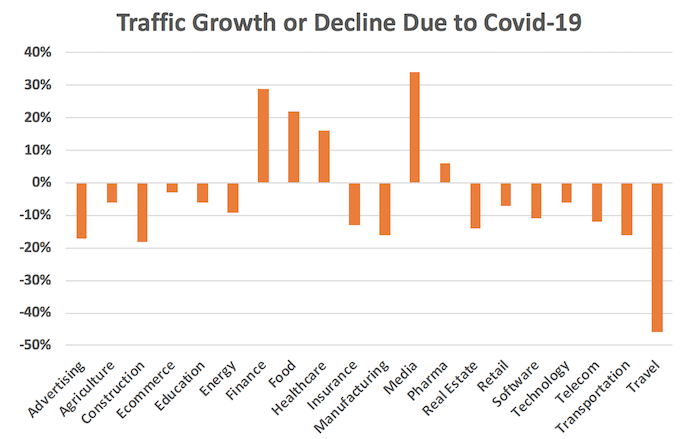 If you are in the news industry or financial space, your traffic increased. If you are in the travel industry, you saw massive drops in traffic.
You can't tell by the chart, but e-commerce was a mixed bag, depending on what sites sold, traffic was either up or down. For example, if you were selling baby products like diapers or wipes then you saw a nice bump in traffic. But if you were selling luxury goods like big-screen televisions you saw a drop in traffic.
Conversions were also down for most industries
From a conversion rate standpoint, we saw drops in most industries as well. Even the financial sector, which had big traffic booms in traffic, dropped in conversions.
Just look at the chart below: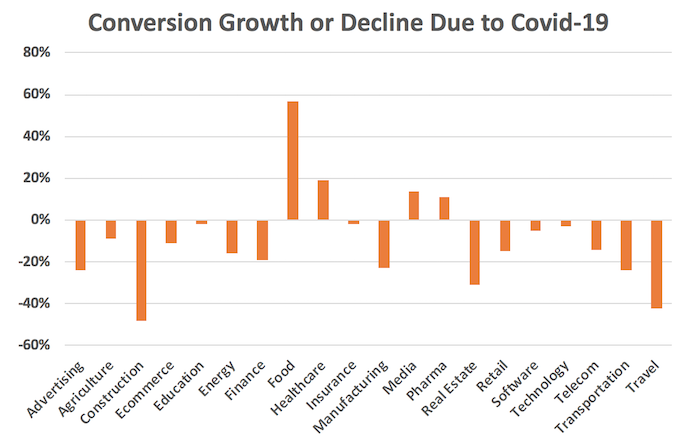 To continue reading about how COVID-19 can affect Marketers, click here!