As for news sites, they had an increase in conversion lift. Many of them charge for people to read their most up-to-date information.
For example, you can only read a certain amount of content from the Washington Post for free. People do not want to miss out on any news regarding the Coronavirus. And yes, this includes political and financial information associated with the turmoil, hence the substantial increase for these news sites.
And with some sectors like travel, they are currently offering massive discounts, which is helping counteract some of their traffic declines. Overall, they are still seeing a massive revenue hit.
Pay-Per-Click Data
We don't have as much pay-per-click data as we do for SEO as Ubersuggest is mainly used for SEO purposes, but we haven't seen big shifts in cost per click…even for such things as like the travel industry.
We don't have a big enough sample size, but as I mentioned, costs haven't come down much.
For example, even though we saw big dips in the number of people searching for things like flights or hotels, we didn't see a drastic drop in CPC but we did see a big increase in cost per acquisition.
In other words, you can still roughly pay the same amount per click, but the cost per conversion has been going up for most industries…unless you are selling necessities like toilet paper.
So what does this mean for marketers?
Be Fearful when others are Greedy, and Greedy when others are Fearful
I must say, this isn't my own saying, it's actually a line from Warren Buffett. You will see people cutting back. The economy is predicted to get hit by 2.7 trillion dollars and experts are saying that we are going to go into a recession. You even have billionaire investors like Carl Ichan saying that the market has more room to go down and we should expect the sell-off has longer to go.
However, someone once said to me, the best time to double down is when others are not.
During an economic downturn, you will find yourself having less competition. This means it is MUCH easier and faster to get results, and in some cases, you will even be able to score deals. Such as a potential reduction in pay-per-click advertising.
Just think of it this way: out of all the publicly traded companies in the United States, if the market keeps going down, many of them will struggle to pay off their debt, which has exploded to $75 trillion.
This means some companies will either go bankrupt, get bought out, or get bailed out by the government. Some may be able to cut costs enough to pay their bills, but for most, it will be too late.
Again, this just means less competition for you.
What Should You Do Now?
If you are lucky enough to be sitting on some cash during the recession this is the best time to buy out other companies. The ideal ones to buy are media companies.
The more eyeballs you control, the more power you will hold in the future. Plus, by controlling eyeballs, it gives you the ability to sell anything you want in the future.
It's the reason I bought the KISSmetrics website for $500,000 a couple years ago. During their peak, they had 1,260,681 million unique visitors a month.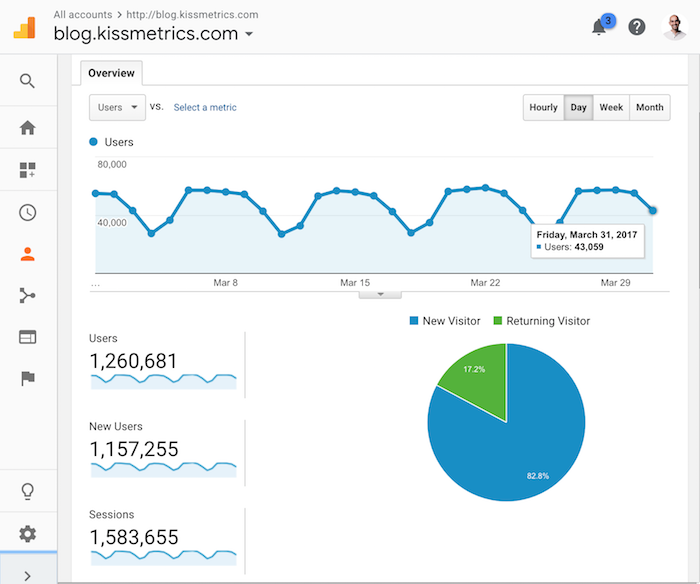 For more information on COVID-19, check out this blog post from my friend, Omar!